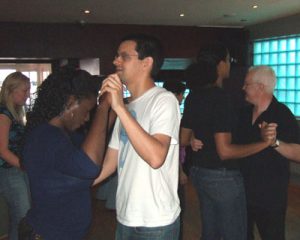 What styles of dance do you teach?
Richard's Dance Academy teach a variety of authentic Latin American dances: Cuban Salsa, Argentine Tango, Merengue, Bachata, Cha cha cha. The movements are based on authentic style. We also teach RocknRoll.
Why Richard's Dance Academy?
Richard Putko has been involved in Latin styles since 1988 and is regarded as one of the finest Latin "pros" around. His assistants are all trained and above all "patient" Choosing a class 
How many places do you have on your courses?
We limit our classes to a maximum of 16 in order to give you quality tuition.
When can I start my classes?
You can start at any time we run our courses. They are ongoing and continue all year long. Courses tend to be 6 weeks. We also run workshops for keen dancers for various styles.
What level are your classes?
Our evenings are broken into 2 levels. One hour of each Basic/Improvers followed by Intermediate/Advanced.
How does it help my business?
The interaction within a life balance/team building class helps promote confidence and creates understanding of each other by the constant rotating partners. The students realise they have to cooperate with each other to perform a successful dance.
How do I sign up to start my classes?
It's really simple all you have to do is book online to the class you want to join. There is pre-registration required as we run structured courses and workshops. You can book for a series of classes at a discounted rate. The courses are usually 6 weeks prepay.
Do I need to bring a partner?
It is not necessary to bring a partner with you, however if you have a partner or friend of course you can bring them..
What should I wear?
To begin with it is best to wear loose fitting clothing and normal street shoes. Trainers tend to stop foot movement and not helpful. Stilettos are not to good, especially on a Sprung wood floor.
How long will it take to get me dancing?
We'll have you doing some basic dances after the first class, and then the sky's the limit or the dance floor is better!
What is the cost for your classes?
Our courses are very good value, usually £65 for an 6 week course  Intermediate students can do both sessions for £85. The 2.30 hour workshops are £25.
Are you insured?
I have published liability insurance. I also have a CRB check certificate.