Do you want to share a dream of dancing? Feel that maybe you have 2 left feet? I don't have a partner to dance with. There are always reasons not to take up dancing but you will be missing out on one of the joys of life.
Here at Richard's Dance Academy we aim to make the learning process as painless as possible. My teaching style is based on a structure that has proven to be successful since 1992. I use a partner rotation system, so you don't need to bring someone with you. We do not have cliquess, so everyone dances with each other. I am involved dancing with each follower.
Richard's Dance Academy began as Richard's Latin dance back in 1992 and the in 1994 became Salsaduende. We are a dance school that focuses on Salsa and Latin dances. We have Facebook, Twitter and YouTube. Please take a look.

I have been a Latin dance professional since 1992. My dance styles are Cuban Salsa, Bachata, Merengue, Cha Cha Cha, Forro and Argentine Tango. I teach these to a high level. I very much enjoy teaching Beginners. One of the great joys I have in dance teaching is, to help a student become the best dancer he or she can be.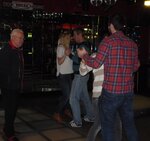 I know many students have had life changing experiences coming through class. I have made some great friends since I started in 1992. It is wonderful to see students pop back in after many years.